Selective Reshuffler

A scroll that randomizes one line selected; similarly to the Enchant Reshuffler, but for only one line.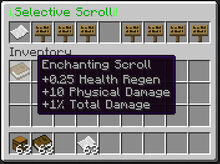 The scroll makes no change to the tier and amount of lines; and amends only the line selected.
Utilizing this scroll can allow many strong combinations, such as 5 lines of +% Total Damage, that will allow maximization of damage.